QA systems
Within the SQUARE project a general quality assurance (QA) system to ensure energy efficient renovation of multi-family housing with good indoor environment has been developed.
A QA system is a very useful tool to enable your organisation to retrofit and manage a large number of dwellings in a systematic and controlled way, thus harvesting the great potential for improvements. The overall objective of the SQUARE QA system is to ascertain that all predefined requirements on indoor environment and energy use performance are reached, i.e. that none of them is reached on too high expense of another. It is based on a policy for retrofit actions, indoor environment and energy use defined by the organization, and includes all the steps in the renovation process, i.e. the planning, design, construction and management phases. Continual improvement on energy performance and maintain or improve the indoor environment conditions are part of the management of the retrofitted building.
The report of the QA system is now available to download and describes a logical structure for and the essential parts of the QA system but is mainly restricted to the formal parts of the system. A guide for the implementation of the system, including checklists, procedural descriptions and templates, together with guidance on appropriate methods of measurement and instrumentation is also available.
The main phases of the implementation of the QA system for a renovation project are shown in the flowchart below, please click on the figure to enlarge it. Examples of documents related to the QA system will also be found in the flowchart.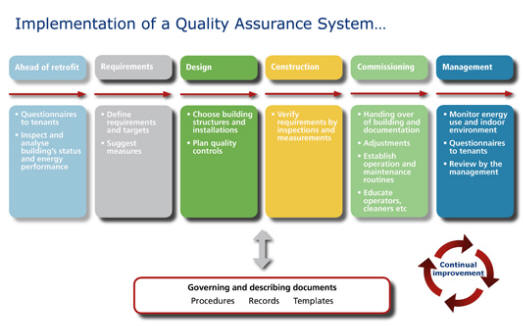 The main target groups for the report, and the QA system, are organizations, co-operatives and privates, owning social housing as well as consultants, contractors and suppliers involved in retrofitting of social housing.
National versions of the QA system – application in pilot projects
National versions of the QA system, which have been tailored to specific national conditions, have been implemented in pilot projects in Austria, Finland, Spain and Sweden.
---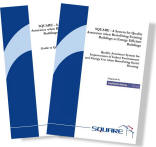 Related information
SQUARE QA system:
General version ► (in English)
Guide QA system ► (in English)
National versions of SQUARE QA system:
Austrian version ► Finnish version ►
Spanish version ► Bulgarian version ►
Supported by